In recent years, the global momentum for rethinking the way plastic packaging is produced, consumed and disposed of has grown faster than ever. The largely linear approach to the way plastic packaging enters and exits our lives for fleeting moments has reached its limits and the challenges have become apparent. A year earlier, another baseline quantification determined that 8 million to 12 million tons of plastic leak into the oceans each year, with eight of the top 10 countries for plastic leakage being in Asia.
Photo: Pixabay
The GA Circular – Driving Circular Economy in Asia Report, Full Circle, provides for the first time, systematic and comparable baseline collection rates for PET bottles (one of the most recyclable forms of plastic packaging) in Southeast Asia and highlights the need for a fundamental shift in the approach to driving circularity of PET bottles. The six countries studied (Indonesia, Philippines, Vietnam, Thailand, Myanmar, and Malaysia) account for a total population of over 600 million people, more than the population of all the EU's 28 countries. Five of these six countries are among the top ten global contributors to ocean plastic leakage!
This baseline research (2018) shows that the average collected-for-recycling rate for PET bottles in nine key cities in Southeast Asia is 54%. The average landfill rate is 36% and environmental leakage rate is 10%. There is a wide variation in these rates across the cities.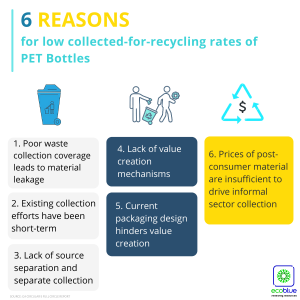 EcoBlue's Comments: While the priority actions as recommended in the GA Circular Study, Accelerating the Circular Economy for Post-Consumer PET Bottles in Southeast Asia, will go towards improving the recycling rates of PET bottles, EcoBlue believes that they should be complemented with the following measures to be more effective:
Government-regulated Extended Producer Responsibility (EPR) initiatives should be introduced as they are more effective than voluntary initiatives.

The action plan should include measures for improving the recycling of all plastics and not just PET bottles for achieving true circularity.

Legislations to allow recycled content in food contact applications are the need of the hour in SE Asia.
Click HERE to learn more about the Circular Economy for Post-Consumer PET Bottles in Southeast Asia.